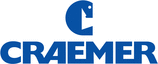 Booth:
Craemer
2 wheel waste disposal container

60 - 80 l | MGB series
Craemer
The KLIKO MGB 60 l and 80 l wheelie bins offer many benefits: This smaller wheelie bin is ideal for both refuse collectors and customers alike. The highly resilient moulded comb lift receiver on the KLIKO MGB wheelie bin is fitted with robust support struts and guiding strips ensuring operator safety during mechanical lifting. KLIKO wheelie bins are cadmium-free and can be easily recycled; the recovered plastic can then be used in the production of many different products. They are equipped with rubber tired wheels with a solid axle made from galvanized, tempered steel. The MGB 60 l and 80 l wheelie bins are resistant to frost, heat and chemicals and the smooth surface prevents waste from sticking.
Other Craemer products
Waste Disposal Bins
Half Pallets 800 x600 mm
Euro Pallets 1200 x 800 mm
Industrial Pallets 1200 x 1000 mm
Securing reels
Tailor-made plastic pallets
Large Containers
Water containers
Universal and road grit containers
Bins
Tubs, buckets, special containers
Transport and stacking boxes
Fish boxes
Ready mortar skip FMK
Mortar tub D-SMK
Storage and Transport Containers / Rubble chutes