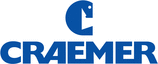 Booth:
Craemer
4 wheel waste disposal container

660 - 770 l | MGBplus series
Craemer
Craemer's 660 l and 770 l four-wheeled waste containers MGBplus are designed for the collection of general waste and recyclables. The robust nature of the waste container makes it ideal for commercial, industrial and construction applications. The separate collection of recyclables and residual waste has inevitably resulted in greater pressures being brought to bear on the collection bin. Craemer has responded to this issue with the development of the robust MGBplus range of waste containers. The unique shaping of the MGBplus front wall significantly increases the overall strength and rigidity of the body ensuring that the waste container is able to consistently withstand the pressures of present day waste management procedures throughout its lifespan. Designed in accordance with both EN 840 and RAL specifications, the MGBplus waste containers are equipped with side lifting trunnions and a comb lift moulding and can be mechanically lifted by either conventional REL bin lifters or trunnion lift equipment. Each MGBplus waste container is equipped with well placed, ergonomically designed handles; foot operated front wheel brakes and solid rubber tyres. A variety of optional extras is available including drop-front doors, lid-locks, fork-lift pockets and recycling apertures. Standard colours are: Green, Grey, Blue, Red and Yellow.
Other Craemer products
Storage