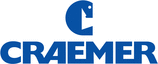 Booth:
Craemer
Grout container

max. 200 l | FMK
Craemer
Characteristics
Product applications:

grout
Description
The Craemer-ready mortar skip is known as the ultimate in construction, having been built specially for the transport of heavy mortar.

It is equipped with thick walls and is extremely stable and robust. Its anti-wear ribs prohibit the wearing of its surface and when used appropriately and maintained regularly, the ready mortar skip could provide a long service life up to five years according to the German quality control TUV authority.
Other Craemer products
STORAGE AND TRANSPORT CONTAINERS
PLASTIC PALLETS
WASTE DISPOSAL SYSTEMS