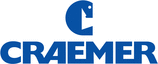 Booth:
Craemer
Plastic half-size pallet

800 x 600 mm, max. 2 000 kg | CR2
Craemer
Characteristics
Description
The ideal half pallet with four-way entry is designed for universal use. This pallet and ECOmax are half pallets with four-way entry to enable access from four sides. The access openings width is suitable for transport by lift truck. The plastic pallet with a blend of patented interlocking system of deck and runner profile ensures that empty pallets are safely transported.

The 3 runner pallet featuring low runner height with chamfered openings around the runners makes them perfect for easy handling from all sides (lift truck with a maximum fork width of 540 mm). The pallets are dimensionally stable in temperatures ranging from -40 °C to +70 °C. optional features include antislip underneath the deck and 22 mm rims. The reusable plastic pallets with just 7.5 kg low tare weight makes the handling of pallets in trade logistics a breeze.
Other Craemer products
PLASTIC PALLETS
STORAGE AND TRANSPORT CONTAINERS
WASTE DISPOSAL SYSTEMS