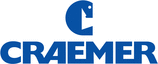 Booth:
Craemer
Plastic half-size pallet

800 x 600 mm, max. 2 000 kg | CR2
Craemer
Half pallet with four-way entry
Plastic pallet with patented interlocking system of deck and runner profile for safe transport of empty pallets
3 runner pallet with low runner height, chamfered openings around the runners, perfect for easy handling from all sides (lift truck with a maximum fork width of 540 mm)
Dimensionally stable in temperatures ranging from -40 °C to +70 °C
Optional: Antislip underneath the deck
Optional: 22 mm rims

Craemers CR2 half pallet is suited for universal use. This pallet as well as ECOmax are half pallets, offering four-way entry. They are accessible from four sides. The width of the access openings is ideal for transport by lift truck. Thanks to the reuseable plastic pallets low tare weight of just 7.5 kg, handling e.g. in trade logistics becomes a breeze.
Other Craemer products
PLASTIC PALLETS
STORAGE AND TRANSPORT CONTAINERS
WASTE DISPOSAL SYSTEMS