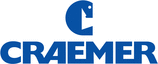 Booth:
Craemer
Plastic pallet / for the food industry

1 200 x 800 mm, max. 5 000 kg | EURO H1
Craemer
Characteristics
Material:

plastic

Domain:

for the food industry
Description
This pallet is extremely hygienic and is the first pallet of its segment that has been made with GS certification, which is a safety certification in Germany. The pallet is DIN plus testes and the results are confirmed by the Fraunhofer Institute in Dortmund. The test confirms its claims of extreme load capacity handling and durability and also as having the best base in the standardized boxed system class.

This pallet is compatible with E-Euro boxes and the H2 half pallets and is rerecorded by the GS1. It was initially made for the food and meat industry, but since its inception in 1993, it is now widely accepted as the benchmark in the European food industry. Formerly the EH1 stamp, the GS1 certification guarantees exchange of this product throughout Europe.
Other Craemer products
PLASTIC PALLETS
STORAGE AND TRANSPORT CONTAINERS
WASTE DISPOSAL SYSTEMS