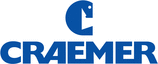 Booth:
Craemer
Waste container / 4-wheel

660 - 770 l | MGBplus series
Craemer
Description
MGBplus 660 1 and 770 1 are the ideal waste container. These are designed for collection of general waste and recyclables making it ideal for commercial, industrial and construction applications. With its unique shape, it can withstand the pressures of the present day waste management. The front wall increases the overall strength and rigidity of the body ensuring the quality of the MGBplus through its life span. Equipped with side lifting trunnions and comb lift molding, can be mechanically lifted for effortless transfer. The ergonomically designed handle; foot operated front wheels brakes and solid rubber tires, makes it easier to maneuver and use. there is a variety of accessories available; drop-front doors, lid-locks, fork-lift pockets, etc., suiting the industry's need.
Other Craemer products
WASTE DISPOSAL SYSTEMS
PLASTIC PALLETS
STORAGE AND TRANSPORT CONTAINERS