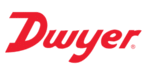 Booth:
DWYER
Differential pressure gauge / membrane / explosion-proof

ATEX, IP65 | Magnehelic® AT22000 series
DWYER
Characteristics
Type:

differential

Technology:

membrane

Protection level:

explosion-proof
Description
AT22000 Series is a Magnehelic® differential pressure gauge that for measurements and display of positive, negative and differential pressures, with the accuracy level of 2% and IP66 protection rating. This model is secured against fire and heat, as it comes in an aluminum flame-proof ATEX enclosure with a glass window and features several gauge construction options to enable use for 2.42 bar and 5.51 bar. These pressure gauges are frequently used throughout the industry for measuring fan and blower pressure, filter resistance, air velocity, furnace draft, pressure drops, liquid levels and pressures in fluid amplifiers or fluidic systems. When installing this model special attention should be payed to fit cables through 1/2" NPT cable gland or ATEX conduit that are purchased separately.
Other DWYER products