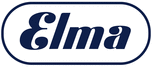 Booth:
Elma-Hans Schmidbauer
Automated cleaning machine / ultrasonic

max. 15 kg, 50 l | ELMA robot
Elma-Hans Schmidbauer
Robot Standard Installations

Standard ELMA robot installations are designed for a charge weight of up to 15 kg. Gentle acceleration and slowing down still allow a high final speed and precise positioning. Powerful driving motors with distance measuring and linear axles transport the charges fast and gently through the cleaning, rinsing and drying stations.

Modular oscillation and lift-out units can be integrated individually into each process station.%u2028

The process stations with approx. 50 litre volume allow baskets up to 280 x 400 x 200 m (lxwxh).
Other Elma-Hans Schmidbauer products
Ultrasonic cleaning lines
Ultrasonic units
Cleaning media
Steam cleaning
Engraving machines
Watch cleaning machines
Polishing units
Soldering units