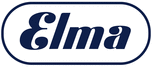 Booth:
Elma-Hans Schmidbauer
Ultrasonic cleaning machine / automated

max. 15 kg, 50 l | ELMA robot
Elma-Hans Schmidbauer
Characteristics
Technology:

ultrasonic

Operational mode:

automated
Description
The Robot is a unit manufactured by Elma-Hans Schmidbauer. It has a charge weight of 15 kg and it has a gentle acceleration slowing down feature that permits final speed and precise positioning. The unit is an automated cleaning machine that is ultrasonic. It was equipped with modular oscillation and lift-out units that can be integrated one by one on the process station. Its process stations allow baskets of 280 x 400 x 200 mm.
Other Elma-Hans Schmidbauer products
Ultrasonic cleaning lines