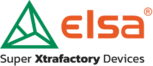 Booth:
ELSA S.R.L.
Portable boring machine with fixed axle shaft

ø 600 - 1200 mm
ELSA S.R.L.
PART NO. KIT 362 FOR LINE BORING AND WELDING FROM Ø 250 UP TO 1200 mm

Kit allows end user to increase the working diameter. Contents: a speed reduction to give the machine more power, 1 x boring bar Ø 80 mm, tool holder and carbide insert.
Other ELSA S.R.L. products