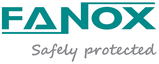 Booth:
FANOX ELECTRONIC
Monitoring control system / engine

PBM-H
FANOX ELECTRONIC
Characteristics
Function:

monitoring

Product application:

engine
Description
Fanox's PBM-H Self-Powered Relays are protection, control, and monitoring systems, generally utilized for signalling, control, and setting applications. These display units feature integrated LCD screens, complete with LED configuration capabilities. The displayed information can be identified with labels. The devices also showcase intuitive and user-friendly menu accessibility, simplifying overall protection functions.
Other FANOX ELECTRONIC products
Protection & Control Low voltage