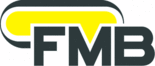 Booth:
FMB

Band saw / semi-automatic / horizontal

max. ø 320 mm, 320 x 500 mm | Hercules+VHZ
FMB
Characteristics
Type:

band

Operation:

semi-automatic

Structure:

horizontal
Description
The Hercules+VHZ is a semiautomatic band saw machine. Its head structure is built in three parts, which are special aluminium alloy, steel, and cast iron. Its blade underwent a dynamometric blade tensioning. A head feeding system with a hydraulic cylinder and front balanced valve for feeding regulation is included in the machine's design. It also features a blade guide with integrated side bearings, carbide plates and top bearing.

The reduction gearbox has ground case-hardened teeth which are lubricated and inclined. The machine also has a VHZ electronical blade speed regulation to accommodate a diverse range of blade speed selection. Two conical bearings connect the motor wheel to a flange. A material clamping vice with a rack system is also built into the machine for smooth operations.
Other FMB products