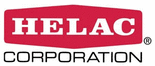 Booth:
Helac
Rotary cylinder / hydraulic / double-acting

Helac
Characteristics
Movement:

rotary

Type:

hydraulic

Configuration:

double-acting
Description
Helac Corporation, which has been considered an industry leader for the past 40 years, has successfully developed different hydraulic and helical rotary actuators capable of positioning, supporting and moving rotary loads. Their Helac actuators are known for their compact configurations, high torque output, load bearing capacity and shock resistance.

Helac actuators have over 1,000 customers all over the world and have been used in different applications including construction, materials handling, military, marine and mining because their designs reduce assembly and production costs. Helac offers custom designs and compatibility with PowerGrip and PowerTilt accessories.
Other Helac products