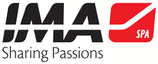 Booth:

IMA S.p.A.
Group: IMA
Depalletizer

IMA S.p.A.
Depacker designed for the de-palletization of bottles from thermo-shaped trays or from carton trays with no lid, piled up on pallets.

MAIN FEATURES:
- Uses both US and European type pallets.
- Fanuc robots for placement.
- Quick size changeover.

OPTIONAL ITEMS:
- Camera system to allow specific controls.
Other IMA S.p.A. products
Robotics
Actuators and Positioning Systems
Valves
Forming Machines
Surface Treatment
Furnaces and Heat Treatment
Mixing and Dosing
Packing and Packaging
Conveying
Storage