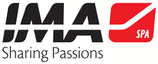 Booth:

IMA S.p.A.
Group: IMA
Robotic palletizer: articulated type

max. 15 p/min | FLEX
IMA S.p.A.
Palletizing machine
The Flex palletizer has been developed to respond to the market requirements for high speed, flexibility and compactness of the palletizing section of the modern production lines. The heart of the machine is the robot (4 or 6 axis, according to the application) which picks up the incoming cases and places them on the pallet, according to a pre-set pattern already stored in the machine memory.
The robot is flexible and very fast: picking up individual cases, ink-jet, labelling or weighing them before placing them on the pallet. All this can be done even at high speed. The machine can be equipped with large capacity and empty pallet magazine with automatic handling of empty and full pallets. Due to its modular design, the pallet handling section can be customized according to the requirements of the end user.
A simpler version is also available, with a dual position empty pallet loading station. The machine can be supplied as a stand alone unit or connected to an IMA side loading case-packer, particularly where space is at a premium.
The machine also features a standard PLC unit which interacts with the robot processor, thereby making operation straightforward. A large and comprehensible operator interface makes change-overs simple and assists with diagnostics. The machine is fully guarded by transparent panels interlocked with safety switches and light curtains in the pallet removal area.
Other IMA S.p.A. products
Secondary Packaging
Solid Dose Processing
Aseptic Processing & Freeze Drying
Primary Packaging
Labelling
Primary Packaging
Secondary Packaging