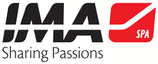 Booth:

IMA S.p.A.
Group: IMA
Robotic palletizer: articulated type

max. 10 p/min | FLEX 2FPS
IMA S.p.A.
Automatic and extremely flexible palletizer with double floor pallet station suitable for handling American cases (RSC) or naked bundles, withdrawn by means of a six axes manipulator. Products can be fed from single or multiple lines.

MAIN FEATURES:
- Automatic Palletiser arranged with double floor pallet station and a 6 axis Fanuc Robot.
- Human interface both for diagnostic and creation of pallet pattern.
- Quick tool-free changeover.

OPTIONAL ITEMS:
- Interlayer pad magazine.
Other IMA S.p.A. products
Robotics
Actuators and Positioning Systems
Valves
Forming Machines
Surface Treatment
Furnaces and Heat Treatment
Mixing and Dosing
Packing and Packaging
Conveying
Storage