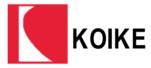 Booth:
Koike

Seam welding machine

3/8" | LS series
Koike
The Koike Aronson / Ransome Internal-external weld seamers are cantilevered from one end to allow loading and unloading of open and closed sections onto the mandrel arm.

Koike Aronson / Ransome longitudinal seam welder can handle seam lengths from 2 to 12 feet, with diameters 4-1/2 inches and up. Pneumatically controlled aluminum clamps hold up to 3/8 inch thick material during the welding process.
A variety of water-cooled back-up bars with or without gas purge are available for several weld processes such as submerged arc, MIG and TIG welding.
Other Koike products
Welding and Assembly
Actuators and Positioning Systems
Valves
Pipes, Tubes and Fittings
Machining Centers
Cutting Machines
Robotics
Tools
Handling and Lifting
Conveying