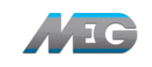 Booth:
MEG
Ultrasonic cleaning machine / degreasing / automatic

KOMBI 350/5 A
MEG
Characteristics
Technology:

ultrasonic

Associated function:

degreasing

Operational mode:

automatic
Description
The Kombi 350/5 A is manufactured by Meg®, and is an aqueous immersion washing machine that is an automated plant washer utilizing a solution that is aqueous. In addition it has a cycle which includes an ultrasound, rinsing and hot air drying. It has a static plat and a basket that rotates, wherein it has a handling system that is automate and is PLC managed.
Other MEG products