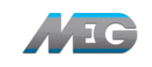 Booth:
MEG
Ultrasonic cleaning machine / degreasing machines / automatic

KOMBI 350/5 A
MEG
1 / 6 - KOMBI 350/5 A
An automatic washing plant which uses aqueous solutions activated by ultrasound, with rinsing and passivation. Drying is carried out with hot air. It has a cane with vibrating baskets.
The baskets handling system is completely automatic and is managed by a PLC which is easy to program using the tactile screen.
Other MEG products
Products
Other products