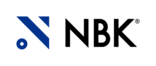 Booth

NBK
Group: Precision Alliance

Products

News

Exhibitions
Flexible coupling: elastomer coupling

0.5 - 35 Nm | XGT, XGS series
NBK
Gum Type Flexible Coupling: XGT

Merits:
- Vibration Absorption
- High Torque, High Response
- Zero Backlash

- Single piece structure with anti-vibration rubber molded between the two hubs
- Available in high torque variety XGT
- Identical clockwise and counter-clockwise rotational characteristics
- Exhibits excellent electrical insulation
- Operational temperature: -20°C~80°C
- Split Coupling
- Easy attachment and removal
- In Pursuit of Optimal Design: Using the latest FEM analysis techniques, the construction of the anti-vibration rubber is designed to yield high torsional stiffness and torque. Additionally, the shape is designed to relieve stress from the jaws' inner diameter. By distributing stress uniformly throughout the jaw, product longevity is significantly increased (patent pending).
Other NBK products
Mechanical Transmission
Standard Mechanical Components