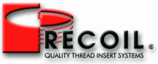 Booth:

RECOIL
Group: Alcoa Fastening Systems
Machine tap

M2 - M24
RECOIL
Description
Taps and Gauges

When installed into a correctly tapped hole, Recoil inserts provide the perfect internal thread tolerance for an installed bolt. Larger in diameter but with the same pitch as a standard tap, Recoil taps are purpose built to enable a precision fit of each insert. Recoil also offer a range of gauges to measure hole size before installation.

Benefits:
* Installation time further decreases in high volume applications through use of spiral point and spiral flute machine taps.
* Drag is minimised and friction reduced, giving you the ability to tap deeper holes.
* Longer life and the ability to tap higher strength materials is ensured by specific use of HSS or HSS-E taps.
* Optimum results are achieved with taper, intermediate and bottoming leads.
Other RECOIL products