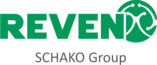 Booth
Rentschler REVEN GmbH
Ceiling mount extractor hood

1 350 - 7 200 m³/h | RLD
Rentschler REVEN GmbH
Exhaust air system:
The exhaust air ceiling is a closed structure which
complies with the hygienic requirements of VDI 2052,
a regulation issued by the Association of German
Engineers and BGR 111, a workplace health and safety
regulation issued by German Trade Associations. The
type of construction prevents the accumulation of soot
in the hollow space above the ceiling. The exhaust
air chambers of the hoods can accommodate various
types of fume extraction equipment with grease
separators. Their installation does not require any tools.
The exhaust air ceiling consists of waterproof and
grease-tight exhaust air segments and each hood
includes a closed duct system with integrated grease
collecting channel, a grease drain cock, pockets
for the installation of light fixtures and connecting
sockets for on-site air ducts. The ventilating ceiling
and its components are TLJV-tested in accordance
with UL regulations. A hygiene report is available too.
Ceiling hood dimensions to be selected:
The projections for extraction ceilings required
by VDI 2052 should be complied with.
Other Rentschler REVEN GmbH products
Air Treatment and Noise Management
Surface Treatment
Industrial Building Equipment