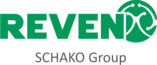 Booth
Rentschler REVEN GmbH
Media filtration oil mist collector

600 - 2 000 m³/h | UC Venturi®
Rentschler REVEN GmbH
Description
Venturi unit ready for connection with an
integrated energy-efficient fan, suitable for
direct extraction on EDM machines and
processing machines working with mini-
mum lubrication. The stable and torsion-
free housing is made of corrosion-resistant
chromium steel with a lacquer finish in
RAL 5002. The service door is fitted with clip
fasteners. The housing has smooth internal
surfaces. The bottom part is designed as
an oil- and waterproof collection pan. Multi-
stage high-performance system. Aerosols
and liquid particles are mechanically sepa-
rated by the patented X-CYCLONE® basic
element type RXZ. Further filter stages pro-
vide for the filtering of finest smokes, gases
and solid particles through high-perform-
ance filters, thereby ensuring the separation
of even the smallest particles. The aJr con-
centration, raw gas temperature and flow
conditions can be controlled via a Venturi air
supply system. Hazardous gas compounds
are reduced by the metal active carbon car-
tridge downstream of the main filter. The
patented Venturi nozzle Is optimized to the
flow conditions and provides an air curtain
upstream of the RXZ basic element, which
ensures the perfect mixing of the main air-
flow coming from the processing machine
with the airflow of the Venturi unit.
Other Rentschler REVEN GmbH products
Air Treatment and Noise Management
Surface Treatment
Industrial Building Equipment