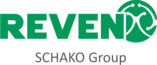 Booth:
Rentschler REVEN GmbH
Extractor hood

1 000 - 4 000 m³/h | X-CYCLONE® EGJ series
Rentschler REVEN GmbH
Collection and cleaning of the exhaust air from production machines in the food industry and from cooking appliances in commercial kitchens. Separation of water- and oil-based aerosols such as spray mist or cooking fumes.
The hood is suitable for installation at the food production or preparation area.
Other Rentschler REVEN GmbH products
Collecting Systems
Compact Systems
Duct-mounting Systems
Extraction Ceilings