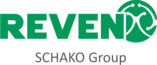 Booth:
Rentschler REVEN GmbH
Modular extractor hood

3 000 - 39 000 m³/h | X-CYCLONE® E2S series
Rentschler REVEN GmbH
Characteristics
Other characteristics:

modular
Description
Collection and cleaning of the exhaust air from processing machines, food production facilities and cooking appliances in commercial kitchens. Separation of water- and oil-based aerosols such as cooling lubricants, spray mist or cooking fumes.
The module is suitable as preseparator located above the production area; fitted to the exhaust duct.
Other Rentschler REVEN GmbH products
Collecting Systems
Compact Systems
Duct-mounting Systems
Extraction Ceilings