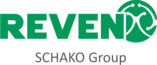 Booth
Rentschler REVEN GmbH
Professional kitchen hood

max. 5 880 m³/h |
Rentschler REVEN GmbH
The hood is made of a durable stainless steel
structure with welded corner joints. All cutting
edges are enveloped and rounded free from burrs.
The hood is equipped with grease- and waterproof
exhaust segments made of stainless steel. The
grease separators are inserted in a slanted position
into these segments in accordance with VDI 2052.
The hood canopy is suitably designed to retain
even surge vapours. The special light fixtures,
type EB with polycarbonate cover, are splash and
jet waterproof, with IP 54 protection and heat
resistance up to 110 °C. The polycarbonate cover
offers highest transparency and is breakproof and
resistant to impact, oil and acid at the same time.
The light fixtures are fully wired up to the connection
box. The grease drain cock with internal thread is
located in the deep-drawn drain area of the grease
collecting channel. The exhaust air chamber can
accommodate various types of grease separators
that can be inserted without tools. The hood is
placed above the kitchen equipment block and
should project sufficiently over the outer edges
of the appliances. The Airstar extraction hood
distinguishes itself by its low construction height
of 300 mm.
The hood and its components are TUV-tested in
accordance with UL regulations. A hygiene report is
available too. All versions of this hood comply with
regulation VDI 2052 issued by the Association of
German Engineers and the workplace health and
safety regulation BGR 111 issued by German Trade
Associations.
Other Rentschler REVEN GmbH products
Air Treatment and Noise Management
Surface Treatment
Industrial Building Equipment