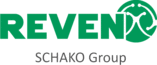 Booth:
Rentschler REVEN

Ceiling-mount extractor hood

X-CYCLONE® EVSR series
Rentschler REVEN
Characteristics
Portability:

ceiling-mount

Air flow:

Min.: 800 m³/h (28251.73 ft³/h)

Max.: 6400 m³/h (226013.86 ft³/h)
Description
The X-CYCLONE® EQA series, manufactured by Rentschler REVEN GmbH, is an extractor hood which collects and cleans exhaust from production equipment in the food industry as well as cooking equipment in commercial kitchens. This device also separate water-based as well as oil-based aerosols like spray mist or fumes in cooking.
Other Rentschler REVEN products