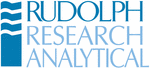 Booth:
Rudolph Research Analytical
Automatic polarimeter

AUTOPOL V
Rudolph Research Analytical
Characteristics
Description
The AUTOPOL V Series manufactured by RUDOLPH RESEARCH ANALYTICAL is an Automatic Polarimeter that is used for demanding or critical operating laboratories. This device is made according to the 21CFR Part 11 standards. It is equipped with an electronic signature and a local data storage used for the security of the device.

Moreover, the AUTOPOL V Automatic Polarimeter has the capacity of an electronic and heating system ranging from 15° up to 30°C.
Other Rudolph Research Analytical products