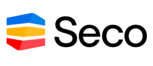 Booth:

SECO TOOLS
Group: Seco

Face milling cutter for cast iron

ø 20 -200 mm | R220.70, R220.74
SECO TOOLS
The two face milling cutters R220.70 and R220.74 equipped with PCBN Face milling pcbninserts are specially designed for high productivity face milling of grey cast iron and hardened steels.

The R220.70 uses solid round inserts, and the R220.74 solid square inserts.

High precision machining
The adjustable pockets allow for high position accuracy and security for optimum surface finish and production economy. For applications where even higher surface finishes are required, the cutter bodies have a separate pocket, also adjustable, which takes a special wiper insert.

High performance inserts
The PCBN inserts are available in grades with very high toughness and wear resistance. The inserts are manufactured to the highest standards, providing excellent edge quality, which results in very high and consistent performance.
Other SECO TOOLS products
Face Milling
Disc Milling
Copy Milling
High Feed Milling
Helical Milling
Square Shoulder Milling
Solid Carbide End Mills
Seco-Capto™
MP1020
MK2050
General Turning
MDT
Jetstream Tooling®
Grooving & Parting-Off
Mini-Shaft®
Seco-Capto
Heavy machining
Drilling
Reaming
Boring
Threading
Tooling Systems
Advanced Cutting Materials
Composite Machining