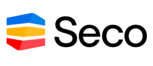 Booth:

SECO TOOLS
Group: Seco

Plunge milling cutter

ø 20 – 200 mm
SECO TOOLS
Plunging was invented to be able to remove large quantities of material and is especially adapted for applications where long overhang is needed, for example in 3D milling.

Seco® was the first to introduce standard plunging cutters on the market, which means that we have long experience in the field and the widest range on the market.

Under normal conditions, a large overhang automatically means that cutting data must be reduced to prevent deflection of the tool, often leading to vibrations, poor surface finish and inferior dimensional accuracy. However, the principal of operation of the plunging cutter enables high cutting data to be used at overhangs many times greater than in conventional operations.
Other SECO TOOLS products
Cutting Tools
Machine Tool Accessories