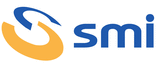 Booth:

SMI
Group: SMIGROUP

Automatic tray packer

max. 80 p/min | TF series
SMI
The Tray packers TF series includes automatic machines for the packaging of plastic, metal and glass containers in cardboard trays without film. Trays can be octagonal or rectangular, with walls having the same height.

TF series trayformers can achieve outputs up to 80 packs per minute, according to the machine model and to the product to be packaged.

The pack collations can vary according to the containers shape and size; in general, the most frequently requested collations are 2x2, 3x2, 4x3 and 6x4. All TF models feature an electronic grouping system; the change-over is automatic.
Other SMI products
SMIFlexi Division
SMIForm Division
SMIPal Division
SMILine Division