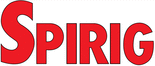 Booth:
Spirig Ernest
Gas filter

FGG-H-A
Spirig Ernest
Characteristics
Description
The complete external Filter Assembly (FGG-H-A) is composed of a stand (FGG-T), the filter body (FGG) with s.s. cock at bottom to empty the trapped residues from filter bowl.
The FGG contains a standard grade disposable filter cartridge (FPG-10.X1). The gas filter FGG-H-A MUST be used on automated flame applications. The long-term stability of the flame improves considerably. Deposits of residues at the tip orifices at Torch is reduced or completely avoided.
Other Spirig Ernest products
Microflame technology
Soldering technology
Measurement equipm.
Temperature indicators / labels
Laboratory Equipm.
Factory outlet