The Online Industrial Exhibition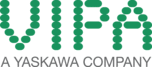 Stand:
VIPA - A YASKAWA Company
Group:
Gesellschaft für Visualisierung und Prozessautomatisierung mbH
CANopen interface module

IM 053CAN
VIPA - A YASKAWA Company
Characteristics
Description
VIPA's Interface Modules (IM) are part of the company's SLIO product line. These modules create the interface between process levels and parent bus mechanisms. The control signals are relayed throught the interior backplane bus to the electronics module (EM).

With the interface module, both the power module (PM) and the bus interface are combined in one casing. The incorporated power module delivers power levels to both the connected peripheral module electronics and bus interface components.
Other VIPA - A YASKAWA Company products