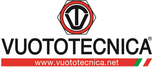 Booth:
VUOTOTECNICA

Digital vacuum switch

max. 100 kPa | 120510xP, 12051xN series
VUOTOTECNICA
Characteristics
Technology:

digital

Pressure range:

Max.: 100000 Pa (14.5 psi)
Description
The small devices in this series are very useful when it comes to giving precise digital signals to maximum measuring value, as long as they are calibrated accurately and compensate for temperatures. The commutation point is within the scale value and users can easily program it using an adjustment screw located on the upper part of the device. Note that a red LED is provided near the screw, indicating the digital output signal commutation status. The pressure differential between the set maximum value and the value of the reset of the rest signal is 2% of the set value, with no possibility of adjustment.

The items are comprised of polycarbonate enclosures, including a sensor and electric circuitry, as well as a coupler and a small aluminum manifold with vacuum connections. The item can also be rotated freely, placing the display in the desired position, without the need to unscrew it from the vacuum connection.
Other VUOTOTECNICA products
Vacuum measurement, control and adjustment instruments