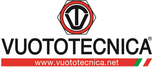 Booth:
VUOTOTECNICA

Multi-stage vacuum generator-ejector

max. 18 m³/h, max. 5 bar | M series
VUOTOTECNICA
Characteristics
Number of stages:

multi-stage

Suction rate:

Max.: 18 m³/h (635.66 ft³/h)

Pressure rise:

Max.: 5 bar (72.52 psi)
Description
These are vacuum generators available with art ejectors of multiple states assembled to small modules. They are compact in size but can deliver high suction capacity. They are capable of producing suction capacity equivalent to 3.6/18 cum per hour and maximum vacuum of 85 percentage when they are supplied with compressed air of 4/5 bar as per the number - of modules. They also have got a silencer equipped in them and are made out of alloys that are slightly anodised. They are suitable for installing at any position. They find their application in industrial - robotics sector and for the gripping systems with interconnecting - vacuum cup due to their compact size, light weight and excellent performance.
Other VUOTOTECNICA products
Vacuum generators and pneumatic pumpsets