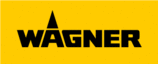 Booth:
WAGNER
Manual powder coating system

6 - 8 bar, EN 50050 | PRIMA series
WAGNER
The new manual unit combines functionality and extraordinary design. All parameters can easily and quickly be entered in the EPG-Sprint X. By means of a central and dynamic knob, all parameters grouped into four functional sections- can be set easily.

The unique Cascade characteristic line setting and the TRIBO-compatibility offer a high level of flexibility for any powder. In combination with the new manual gun PEM-X1, the manual unit gives perfect coating results. The powder feeding is carried out directly from the original container optionally out of the 60l stainless steel container.

Best Handling:
Intuitive user guidance: The logical layout of the control elements make adjusting recipes fast and clear. Up to 50 coating recipes can be saved creating endless possibilities to set parameters to fit your individual needs.
Quick color changes by using a pre-programmed button to initiate the process. The position of the suction tube and the coupling for the powder hose
Light and modern design. Its robust construction and reliable quality output, is the perfect solution for optimal manual coating.
Flexibility: The manual system can be transformed into a 3l-model or a 60l-model with vibration table. By mounting the small wheels, the manual system can be used and positioned in small places.
Other WAGNER products
Powder application
Airless
Temperature controlled spraying
FineFinish
Plastering
Line striping
Liquid Application