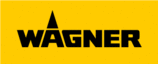 Booth:
WAGNER
Powder coating system / manual

WAGNER
Characteristics
Description
The Wagner's SPRINT manual unit has parameters that can rapidly get in the EPG-Sprint X; these parameters are easily positioned and grouped into four sections through the use of a central and dynamic knob. In order to have a good coating outcome from the manual unit, the PEM-X1 can be combined. The powder feeding is brought straightly from the original container out of the 60l stainless steel container. The adjustments of recipes are now made rapid and clear due to the logical design of the control elements. Meanwhile, to start the process, quick color alters can be through a pre-programmed button.

Its robustness made this product ideal for optimal manual coating. The system can be used and positioned in small places.
Other WAGNER products
Application / Industry products - Powder