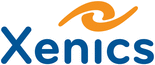 Booth:
XENICS

MWIR camera / MWIR / high-sensitivity

GigE Vision / CameraLink | Onca-MWIR-InSb-640
XENICS
Characteristics
Spectrum:

MWIR

Technological characteristics:

high-sensitivity
Description
The Onca-MWIR-InSb-640 model is manufactured by Xenics, and is an inexpensive midwave infrared-imaging camera that is perfect for thermal imaging applications where performance is critical. It utilizes an updated real-time image correction that is equipped with a 2D InSb array with 640 x 512 pixel resolution.

The unit provides 14-bit images at various frame rates, and is enhanced for highly stable stand-alone and PC-driven thermal imaging and thermography applications. It has a pixel pitch of 15 µm with sensitivity of < 20 mK.

The unit has a video rate of 30 Hz and high speed at 120 Hz with window interest of 16 x 4. It also has power rating of 24 V and consumes < 50 W at room temperature.
Other XENICS products
MWIR cameras
SWIR cameras
LWIR cameras
Security cameras
Special products
OEM modules
Detector arrays