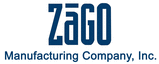 Booth
ZaGO Manufacturing Co.
Products

News

Exhibitions
Panel mounted sealed push-button switch

ZaGO Manufacturing Co.
ZaGO Manufacturing Co. is now pleased to introduce this new option for front panel sealing. This option includes a sealing cover in either colored or transparent material (for illuminated and non-illuminated applications). These covers provide a positive seal when actuators are projecting from the front panel, providing protection from salt sprays, spills and other harsh environmental challenges. The switch covers maintain effective sealing for temperature ranges of -67F to 356F. This kind of performance and added reliability can be designed into your panel for a low cost with minimum orders as low as 25 pieces.
Other ZaGO Manufacturing Co. products
Standard Mechanical Components
Valves