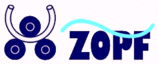 Booth:
Zopf
Hydraulic bending machine / CNC

ZB 120/3 H2
Zopf
Characteristics
Operation:

hydraulic

Control:

CNC
Description
The ZB 120/3 H2 CNC Machining Centers are manufactured out of heavy steel fabricated materials. The systems are integrated with 3 driven rolls, each with independent hydraulic planetary motors. They are also incorporated with two forming rolls (each) for minimization of flat ends. They feature dual roll spherical bearings (SKF or equal), built-in hydraulic motors that are connected directly to each of the planetary drives, and both horizontal and vertical operating positions.

Other features of the ZB 120/3 H2 CNC Machining Centers include modular tooling capabilities, and a wide range of optional specifications. This includes hydraulic side guides, special-tooling functions, and traction and compression tooling mechanisms for IPE, HE, and UNP-profiles.
Other Zopf products