The Online Industrial Exhibition
HMI with touch screen
ARCHMI-912P
Screen size: 12.1 in
APLEX PC Based Powerful Graphics Enhanced Fanless HMI/Intel Haswell platform Features: 12.1" Industrial Compact Size Panel PC Flat Front Panel Touch Screen Fanless Design Intel 4th Gen. Core i3 CPU built-in/i5(option) Onboard ...
See the other products
APLEX Technology Inc.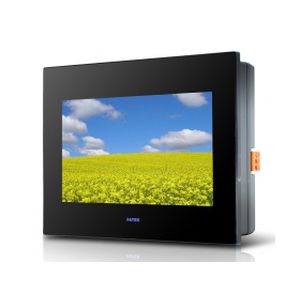 HMI with touch screen
P5070 series
Screen size: 7 in
... aesthetically pleasing high-gloss piano black finish, the P5 series represents the high quality and reliability expected in the industrial automation market today.
HMI terminal with keyboard
Screen size: 12 in
• 12 "TFT Rack Monitor with 41 short-stroke• built-in keyboard controller PS / 2 or USB interface.• Dimensions 415 x 300 mm• Company logo and cover on request• Minimum purchase 5 pieces!
HMI terminal with touch screen
ETPC-P080
Screen size: 8 in
8" Industrial Fanless True Flat HMI Features 8" TFT-LCD True Flat, Projected Capacitive Touch Intel Atom N2600 Dual Core 1.6GHz Fanless Design Additional expansion slot DC ...
See the other products
ENNOX Electronics Inc
operator terminal with keyboard
ATR313
Graphic Terminal, LCD 251x146mm, Multi-loop. Combined with a variable bumber of data acquisition modules Pixsys PL300 , it offers a complete and flexible control system for the management of thermal processes on industrial ...
See the other products
Pixsys
HMI with touch screen
HMI5070DL
Screen size: 7 in
The HMI5070DL offers dual Ethernet for added security, a slim design, sleek look, and affordable price—a perfect choice for those requiring a high-quality, value-priced HMI. The unit is programmed with easy-to-use EZwarePlus and can display ...
HMI terminal with touch screen
H610 Series
Screen size: 4.3 in - 15 in
Full Color Ethernet Type HMI H610 offer high resolutions touch screen HMI from 4.3 to 15, we adopt WinCE 6.0R system as a standard and support Ethernet, Modbus and most industrial communication ...
operator terminal with touch screen
4" - 10", 800 x 480 | XTOP series
Screen size: 10 in
The SERAD FRANCE V606e Series is a Panel Touch Terminal. This device is equipped with 800 by 400 screen definition and has 65,000 colours installed in it. In addition to the said features, this device also is capable ...
See the other products
SERAD
multitouch screen HMI terminal
CE丨7"TFT丨SZ7 series
Screen size: 7 in
... programming. Application these models can be used on welding robot, palletizing robot or packing robot, mainly focus on the industrial robot simply controlled by PLC and need various methods for installation. Performance ...
See the other products
Kinco Electric (Shenzhen) Ltd.
HMI with touch screen
PR3820-00-01-S00-14 series
Screen size: 4.3 in
The PR3820 is a Mobile Data Terminal, Windows® CE™ 6.0, with a 4.3" bright TFT LCD screen, featured with a touch screen. The system is equiped with a 32 bits ARM processor running at 480 MHz, with 64 MB RAM and 128 MB ...
HMI with touch screen
P205
Screen size: 5.7 in
5,7" STN / 320 x 240 pixels 5,7" TFT / 640 x 480 pixels Touchscreen Microsoft Windows embedded CE 6.0 Landscape and portrait applicaple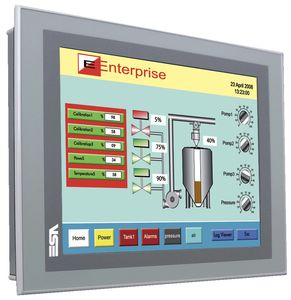 HMI terminal with touch screen
IT112T
Screen size: 12.1 in
IT112 Terminal is a touch-screen terminal with 12,1" TFT LCD display with 65K colors. It is equipped with strong backlight and White-LED. IT112 is equipped with SP1 (RS-232/485/MPI), while the second ...
See the other products
ESA elettronica
HMI terminal with keyboard
ESA series
Broad range of solutions including text terminals, graphic HMIs, touch screens, Windows CE and Linux terminals, plus industrial PCs. Text terminals are easy to use and ...
HMI terminal with touch screen
GT Series
Screen size: 3.8, 4.6, 5.7, 3.5, 7 in
The GT-series touch panels make communication between human and machine easy. With a depth of 39.1mm (GT32), GT terminals boast the slimmest body in the industry. The resolution for text and graphics ...
... , Brass Switch Terminal Small, Brass Switch Terminal, Brass Terminal as per customer specifications, design and requirement. Each terminal ...
vehicle operator terminal
FMT-921
Screen size: 9.7 in
... inch intelligent vehicle terminal, a low cost solution designed for bus, taxi, transport vehicle and other applications. All FMT series products are designed with no fan and wide temperature and wide pressure. It uses ...
terminal with touch screen
Hygrolion SR810 - 9tp10
Screen size: 10.4 in
... and modern technologies Is supplied with anti-reflective protection and defies reliably adverse conditions in the harsh industrial everyday life thanks to IP65 protection.Moreover long-term availability of all components ...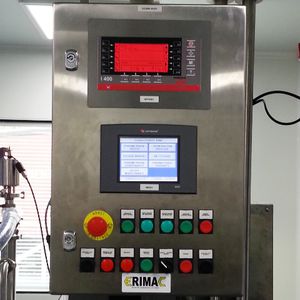 HMI with keyboard
INJECTVISOR-xxx series
Screen size: 10.2, 10.4, 15, 12.1 in
Newly developed controller INJECTVISOR-V30 has an excellent user interface function by means of huge buildup and opening of memory capacity for molding conditions etc. and satisfies customer's various needs.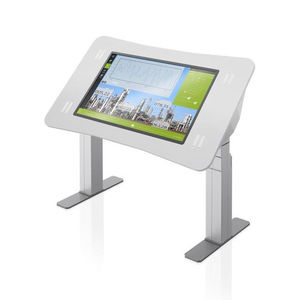 ... The Collaboration Table is lean to fit into existing buildings and office environments but still robust to be used for industrial applications. The table has an ergonomic design for collaboration with height and angulation ...
Intelligent vehicle-mounted terminal products are installed on such equipment as electric shovel, truck, bowser, sprinkler, bulldozer, rig, engineering vehicle, command car, etc. The GPS intelligent vehicle-mounted terminal ...