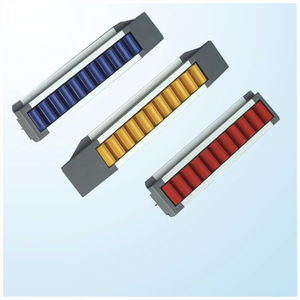 This is the "lighter" roller conveyors line of the range. It can be used to create a side wall that, in addition to containment, improves even the scrolling of the transported products, or achieves a carpet of idle rolls, scored alongside ...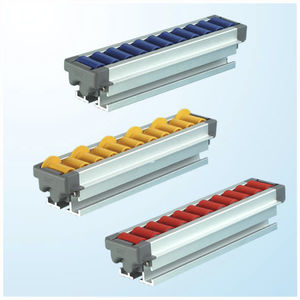 The rigid structure of this conveyor is suitable for relatively long roller carpets and when a significant load capacity is required. It does not need a further support structure as the aluminum profile is already bearing of his own, ...

This roller conveyor is especially suitable for lateral containment or driving of packages moving. The fixing is quick and easy thanks to the protrusions or grooves in the profiles of aluminum rollers. It is available in different ...

Bulk throughput: 2 t/h - 2800 t/h
Speed: 1 m/s - 2 m/s
Introduction: The Sanyyo Conveyor is a dedicated frame use to transport loose material on belting. It is widely used in the following fields: Metallurgical, coal, ore, building material, chemical, grinding and hydroelectric power sections. ...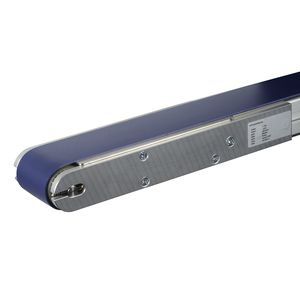 belt conveyor
FB10 series
The FB10 Series features plates made of anodized aluminum and comes with galvanized screws. The frame is made of anodized strut profiles and it measures 45 mm x 45 mm. The belt support in VA is made of sheet steel 1.4301 and the pulleys ...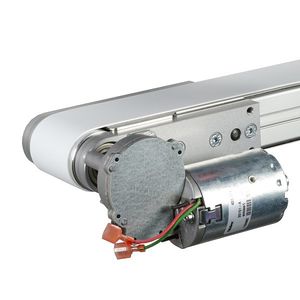 belt conveyor
FB13 series
The FB 13 series is a small belt conveyor that possesses a width that ranges from 60 to 400mm. It is characterized by its 24 volt gear motor that runs in a direct current. This miniature belt conveyor is integrated with a Bosch profile ...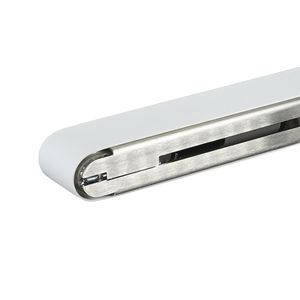 belt conveyor
FB21 series
FB21 miniature conveyor has an internal 24-volt VDC drive, with a belt thickness range of 50 to 100mm. There is an internal drive with a 24 VDC Maxon motor, complete with planetary gearbox. The unit is very compact with no protruding ...

Maximum load: 30 kg - 3000 kg
TECAUMA's transfer conveyor for concrete products is appropriate for handling moulds and concrete products with differed mould release. The curing chambers are loaded and unloaded automatically. The transfer conveyor can carry loads ...

clean-room conveyor system
- GMP / FDA-conform system solutions - PU-transportbelt - stainless steel-side guidance - stainless steel-operation table - enclosed drive unit - transport velocity till 2 m/s

Speed: 2 m/s
GMP / FDA-conform system solutions Z-belt version or L-belt version dotted PU-transportbelt coverage under the belt removable plexiglass cover on upper side aluminium-side guidance enclosed drive unit transport velocity till 2 m/s

transport conveyor system
- transport length till 6 m - flexible stop-and-go system - ransport trolley with substrates receiver - substrates receiver optionally:turnable, slip-on, sterilisable - fully integrated substrate transmitted light-inspection - uffer ...

Speed: 2 m/s
Cleanroom Transportbelt, wide version ISO-Cleanroom class 6...9 (US. Fed. Stand. cl. 1'000 ...1'000'000) GMP Cleanroom class C, D, E GMP / FDA-conform system solutions PU-transportbelt aluminium-side guidance enclosed drive unit transport ...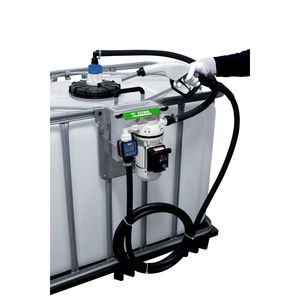 AdBlue transfer system
Betankungsset Pro f
powerful self priming diaphragm pump digital flow meter K 24 (type PRO) suction hose with quick coupling 6 metre supply hose automatic nozzle (on PRO and BASIC PLUS) or manual nozzle (on BASIC) nozzle holder with drip collector

Bulk throughput: 40000 kg/h - 1200000 kg/h
Speed: 1.3 m/s - 2 m/s
The vibrate screen range of belt conveyors are widely used to convey scattered material or bulk material in mining, metallurgy and coal industry. They come in six different versions varying in Belt length by power , speed and production ...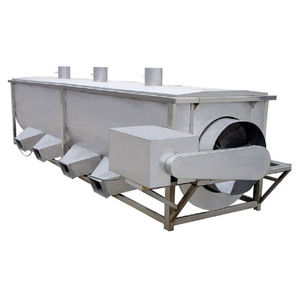 The Vibrating Cooler is utilized for transferring and cooling in the recycling process of old sand from casting. It can achieve the goal of drying and cooling continuously. Besides, the machine has the characteristics of energy saving ...

pipe loading-unloading system
Automatic system loading unloading Pipe length from min. 2.000 mm to max 13.000 mm Automatic cutting system in connection with a bar feeder Self centering system clamping Motorized roller tube can translate in both ...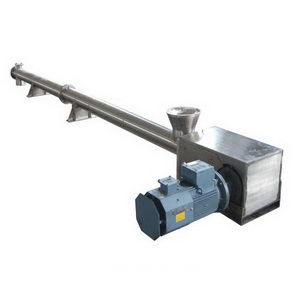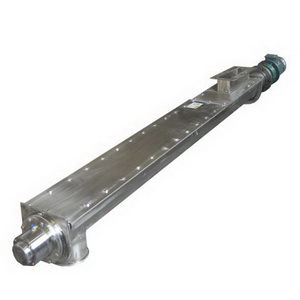 Easy for cleaning the inner wall or screw plate with the removable top cover.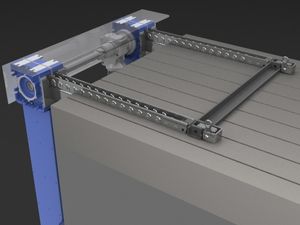 press transfer system
PPS
The Serapid Push-Pull System (PPS) is made for moving and positioning of any products without using cranes, forklifts or manual handling. This machine is consistent in placing and unique ability to both push and pull. It is also equipped ...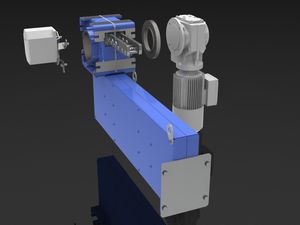 Powered or Motorized Bolster Extensions (MBE) incorporate the functionality of bolster extensions and push-pull system. The machine allows an easy access to the side of the press. It also make part and scrap removal easy. The MBEs ...

The conveyor belts are designed with various configurations at the operator's disposal. The unit is available in curved, horizontal and special belts.

The AViTEQ parts conveyors are specifically used in every case where volume parts have to be supplied to a magazine, an engine or to installation facility, item for item, with a pre-determined orientation and time. Also, these conveyors ...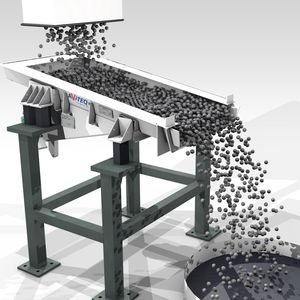 The Trough Conveyors, manufactured by Aviteq, are specifically designed for the conveying and metering of pourable bulk product up to almost any particle size. These devices are configured with trough-shaped structure, ensure robustness. ...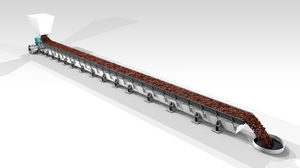 When it comes to various industrial production processes, hot or sharp waste bulk must be handled, including metal shavings, slugs or foundry sand. The item has to be transported over long distances before it can be re-processed or disposed. ...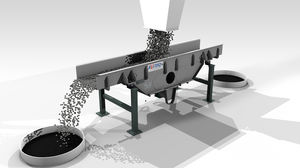 AViTEQ reversing conveyors are designed for use in situations involving the conveying and metering of bulk solids in opposing directions. These are built in the form of reversing conveyor troughs or pipes. They find application typically ...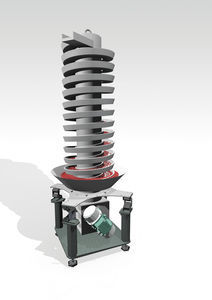 The Spiral Conveyors are designed for vertically conveying large solids, coarse-grained and fragmented bulk materials. These components are conveyed from different production processes, by transporting it both in upward and downward ...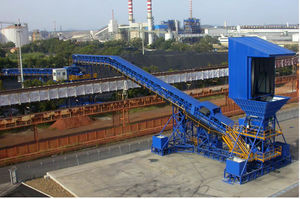 The ship unloading conveyors comprises an equipment made of a mobile hopper on wheels and mobile conveyor belts. The hopper collects the bulk material from the mobile shaft of the self-unloading ship, and it is provided with a mobile ...

The modular Tubular Screw Conveyor system is highly versatile offering numerous solutions for conveying powdery or granular materials. Screw Conveyors and Feeders are manufactured in carbon steel with a suitable surface finishing. They ...

The modular Trough Screw Conveyor system is highly versatile offering numerous solutions for conveying powdery or granular materials. Screw Conveyors are manufactured from carbon steel with a suitable surface finishing. They are made ...

The Vertical Screw Lift System consists of a Horizontal Screw Feeder and a Vertical Screw Conveyor. The Horizontal Screw Feeder, which may feed material from a silo or hopper or simply convey it being fed by an upstream feeding device, ...





belt conveyor
CONVYSINCRO
Following the creation of synchronized hybrid products, Vision Tech projects conveyors to obtain maximum performance and long-life products. Thanks to the synergy with expert technicians and designers in automatic machines, Vision ...

Maximum load: 3 kg
Speed: 12000 mm/min
Transligne has manufactured a conveyor with a bottom return, suitable for small sized products. It feeds automatic and manual assembly machines thought its motor. The unit is utilized as a buffer, cooling or heating corridor, and ...

Maximum load: 120 kg
Speed: 12000 mm/min
This light conveyor with bottom return is ideal for moving large sized products. Operating on one motor the conveyor feeds the automatic assembly and welding machines. The facility of the bottom return is extremely helpful and reduces ...

automatic machine loading-unloading system
Benefits: Fully automatic loading and unloading of drums Combined with other handling modules Linked to warehouse for storage and/or distribution A SMB constructed truck unloading robot moves onto the truck's loading platform ...

For transport of bulk material, regardless of horizontal or vertical direction, SMB has developed a number of different modules. Curve conveyor Roller conveyor Belt conveyor Vertical conveyor Troughed belt conveyor ...

If bulk materials are to be loaded from the stockpile back onto the conveyor belt, a reclaimer by SMB is called into action. The bulk material is loosened by scraper chains and fully automatic transport is performed by bucket elevators. In ...

The Pallet Dressing line coats pallets with a foil or cardboard layer, to contamination taking place beneath the product. Performance: 2 pallets per minute Foil width: max. 1350 mm Foil length: 800 up to 1800 mm Stitching heads: max. 9 pieces
See the other products
project Automation & Engineering GmbH

Design Variable lengths Width according to customer specificatiom Selection of roller types, specific to the load and size of the conveyed material Load and speed to customer requirements Adjustable (±50 mm) Conveyor height designed ...
See the other products
project Automation & Engineering GmbH

This type of conveyor serves as a buffer between products (normally pallets). The Accumulation Conveyor needs only one gear motor as the clocked transport of the pallets is regulated by pneumatics. When a pallet position is empty, the ...
See the other products
project Automation & Engineering GmbH

Curved conveyors are equipped with belts. With an inner diameter of (min.) 500 mm at a belt width of 300 mm each bend are possible. Conveyor length, speed, lateral guides and conmveyor heights can be custom designed.
See the other products
project Automation & Engineering GmbH

belt conveyor
max. 8000 x 2000 mm, 0.1 - 1 m/s
Advantages Low-Noise Easy to maintain No belt elongation Delicated material handling Application-oriented belt coating for varying of cargo
See the other products
project Automation & Engineering GmbH

Puma is a curved solid plastic panel belt that is able to connect with straight conveyors. The Puma RTSKRD is suitable for various industries and needs very little maintenance. The robust, durable and reliable Puma RTSKRD-CR operates ...
See the other products
Jonge Poerink Conveyors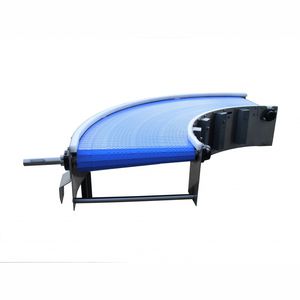 The Puma Compact is a curved conveyor with a durable solid plastic panel belt with little pitch which is intended to join straight conveyors. The miniature belt pitch upgrades the exchange to different conveyors and the smaller inner ...
See the other products
Jonge Poerink Conveyors

The JP Puma Spirals are specifically designed as the most robust and reliable vertical conveyors. These tools are mainly used for handling huge numbers of unit goods such as bags, boxes, cartons, and others. These are also made to convey ...
See the other products
Jonge Poerink Conveyors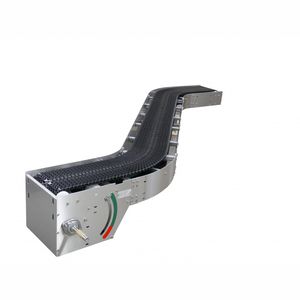 The JP HD is a conveyor that is intended for heavy-duty conveying unit loads. The conveyor belt utilized as a part of de the JP HD Series joins together plastic boards with stainless-steel poles. The firm fabrication and the solid hybrid ...
See the other products
Jonge Poerink Conveyors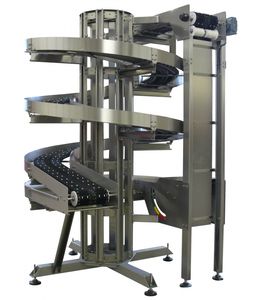 The JP HD Spiral Conveyor features a standard setup and extensive types of in/out feed configurations. This permits operators to construct the spiral or the conveyor in exactly the way they wanted. The conveyor can carry heavy loads ...
See the other products
Jonge Poerink Conveyors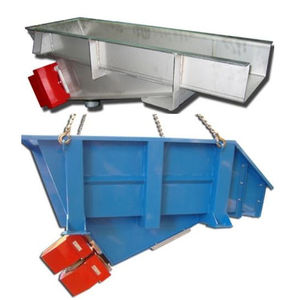 vibrating conveyor
K series
Maximum load: 20 kg - 250 kg