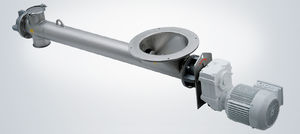 The Zeppelin metering and conveying screws are designed to meter and convey virtually any types of bulk materials and can be used for conveying systems as well as for the exact metering into weigh scales. Our metering and conveying screws ...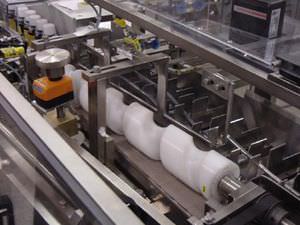 screw conveyor
max. 400 p/min
Features: Speeds up to 400 parts per minute Handles cylindrical, surge-able items (bottles, some vials) Automates the transfer of products from one machine to another within a small footprint Application List: Bottles Tubes

The Ohlson SH-2SS is a chain bucket elevator constructed in a type 304 stainless-steel framework. This elevator can accommodate various food grade buckets with capacities of 600L for the 4L model and 400L per minute for the 2L model. ...

These screw conveyor units are engineered for applications that are concerned with the vertical conveying operations for powders and spices. These units are supplied with a hopper, a vibrator, a feed screw for constant and steady flow ...

For conveying sections and hopper discharge in case of medium to high throughputs. Compact construction designed for continuous operation. Optimal vibration insulation using highly elastic spring elements. The inclination can be adjusted ...

For conveying sections and dosing tasks in case of medium to high throughputs. Compact construction designed for continuous operation. Optimal vibration insulation using highly elastic spring elements. The inclination can be adjusted ...

The SPALECK resonance conveyors have unbalance motors or exciters. Resonance conveyors are dual-mass vibration systems that use a small transmitted vibration to achieve a large oscillation of the conveyor trough (the resonator). Linked, ...

A Screw Conveyor can be used as a mixer or agitator to blend dry or fluid ingredients, provide crystallization or coagulant action or maintain solutions in suspension. Stainless Steel Screw Conveyors can be manufactured to conform ...
See the other products
Conveyor Engineering & Manufacturing

Vertical Screw Conveyors offer many advantages over other options: They convey a wide variety of materials very efficiently Vertical Screw Conveyors occupy a very small footprint They have very few moving parts so reliability is high Conveyor ...
See the other products
Conveyor Engineering & Manufacturing

One advantage screw conveyors have over other mechanical material handling options is that they can be manufactured to very high sanitary / food grade standards. Conveyor Eng. & Mfg. has over 30 years experience with providing food grade ...
See the other products
Conveyor Engineering & Manufacturing

Shaftless screw conveyors are ideal for moving sticky and/or stringy materials that otherwise tend to build up on a standard screw's pipe or wrap around it. Other benefits include: High efficiency Few moving parts Easy to clean Materials ...
See the other products
Conveyor Engineering & Manufacturing

Plug screw conveyors became part of the oilseed extraction process around 1920 and have been used for processing soybeans, corn germ, safflower (sunflower), canola (rape seed), peanuts and cottonseed. A typical system includes two types ...
See the other products
Conveyor Engineering & Manufacturing

When the operator presses the start button, a device with a stop travels to the next tool position and indicates via display the position, a tool number and the stop side to be used. At this point, the operator can set the tool position ...

For long distances bottle transport, Maer provides air conveyors and venturi systems. The pneumatic venturi system sucks the container and blows it at high speeds inside stainless steel tubes, silicone, PVC or PE hoses, depending on ...

This is a conveyor system manufactured by Mac Due S.r.l. which is designed for adding a single channel in the in a two lines system. It comes with a conveyor belts for moving the production product at extreme care. This products consist ...

Conveying equipment Design - production - control - visualisation - service Conveyor belts for bags and cartons Mobile systems Roller tracks Chain conveyors Turntables Feed stations Double pallet ...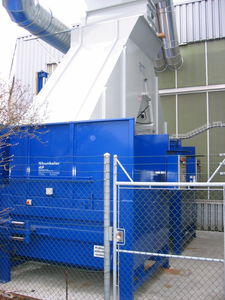 roll-container loading system
STV series
L&M stationary compacting systems are produced in different sizes including L&M waste reloading or loading stations. Depending on the customer requirements, they may be equipped with fully automatic couplings and decouplings, the required ...

conveyor system
max. 2 000 kg/h
The company's program covers the most varied promote turn outs for diverse materials. The Foederer performance goes from Kleinstmengen between 100g and 2000kg/h. The Behalter uses high grade steel and a quick locking mechanism to ...

Different metering screws enable optimal application for different materials. For the dosing of hardly fluent materials you can order special equipment

air-operated conveyor
LS2000
Fast and stress free transport of tablets and capsules samples to any testing system Conveying speed: a batch of up to ten tablets every twenty seconds Easy dismantling and assembly

Heavy Conveying Hinge Conveyor Load activating system through hinge chains (two or three) with a width and separation between them adapted to the type of load. Normally used when pallet has a special form or an irregular base.

Load carriers as integrated storage and materials handling components for varied applications. Load carriers for a wide variety of payloads Mature systems Comprehensive experience In-house development and production ...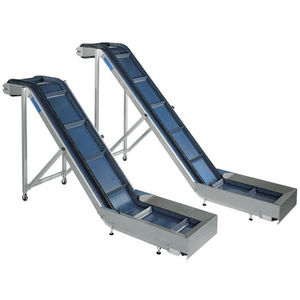 hinge belt conveyor
KF 100 series
Speed: 0.4 m/s - 0.48 m/s
The waste conveyor can be positioned according to the requirements ? to the left or righthand side or straight away from the machine.

hinge belt conveyor
SF, HF series
Speed: 0.3 m/s - 0.48 m/s
For guillotines with automatic waste removal device (ASE). The waste is discharged onto the initial cross conveyor (HF) installed under the guillotine. From here the waste is conveyed up (SF) into a bin. The SF can be installed in three ...

screw conveyor
2 - 8 m | Spirotec/Compatec
The Spirotec (SP) is a machine that conveys solid matter like drained residue, floating particles, treatment plant sludge, as well as various agro-industry products (pellets, shredded grass, poultry carcasses, etc). When equipped with ...

transfer system
VEN MOVE TRANSFER
The Ven Move Transfer is a transfer system that performs a change from the longitudinal transport to the cross transport during the transport of workpieces. Operating in a cycle, this transfer system functions either as an accumulation ...

vacuum conveyor
VEN MOVE STACK
Feeders and stackers with vacuum suction traverses Stacking / feeding: Frequently, a production run starts or ends with the automatic feeding or removal of workpieces. Our feeders and stackers are produced in various capacity levels, ...

The Sandvik conveyors and steel-belt conveying systems can be used for a wide array of products such as food and various bulk goods. The strength and the durability of the steel belts make these conveyors ideal for transportation of ...

automatic loading-unloading system
We offer direct loading and unloading of machine tools with our tailor-made solutions as well as the standardized solution - Baumann feed|box - for the universal supply of machine tools via automation platform. Tailor-made Solutions ...

clean-room conveyor system
- GMP / FDA-conform system solutions - PU-transportbelt - stainless steel-side guidance - stainless steel-operation table - enclosed drive unit - transport velocity till 2 m/s

clean-room conveyor system
ISO-Cleanroom class 5 - 8
- transport length till 6 m - flexible stop-and-go system - ransport trolley with substrates receiver - substrates receiver optionally:turnable, slip-on, sterilisable - fully integrated substrate transmitted light-inspection - uffer ...