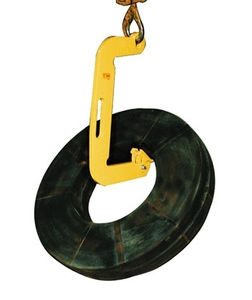 Tractel manufactures different kinds of clamps for varied applications. They produce clamps for lifting plates, profiles, steel frames, as well as for lifting and handling steel drums and containers. There are also those for engineering ...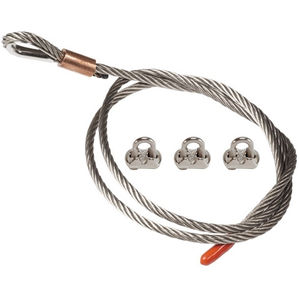 This equipment from Tractel is a galvanized or stainless steel cable. The tool is designed 3 meters in length, and 8 mm of diameter. The tool is constructed using stainless steel or galvanized material. In addition, user will get 3 stainless ...

Classical Timing Belt Pulleys feature uniformly spaced grooves cut in their periphery. This design enables a correct and positive attachment with the mating teeth of the belt. The pulleys are made with close tolerances to ensure smooth ...

The SP series Cross + Morse Crown V-Belt Pulleys are manufactured according ISO 4183 and DIN 2211 Standards out of grade 220-260 fine grain cast-iron suing most advanced foundry processes, with finishing work done by CNC lathes. They ...

lifting hook
VIP-Cobra series
The VIP Cobra Series, manufactured by RUD, is an eye sling hook that features ring connection advantages of a RUD clevis hook. It offers safety latch that is occupied on the tip of the hook. In addition, this device highlights a protection ...
See the other products
RUD

coupling link
ICE-Master series
The Ice Master Series, manufactured by Rud®, is a flexible pool resistant clevis connector with a permanent chain link that is hooked up in the series. Furthermore, it guarantees a single fitting of a correct ICE-chain diameter. Plus, ...
See the other products
RUD

lifting chain
ICE-IMK series
The ICE-Round steel chain IMK 6 x 18 in ice-pink is manufactured and tempered using a brand new patented material, and the chains have a very high hardness whilst also remaining insensitive to the hydrogen embrittlement that is problematic ...
See the other products
RUD

lifting hook
ICE-ISH series
The ICE-Star Hook utilizes an innovative construction complete with a skeletal design, ensuring the ICE-SH Star Hook weighs up to 25% less than other Grade 8 hooks that possess the same WLL. This hook is fitted with a large width throat, ...
See the other products
RUD

lifting hook
ICE-IAGH series
The ICE-Self Locking Hook Series IAGH-6 is manufactured by RUD. It showcases a compact and durable design, and the tip of the hook is thickened to prevent harsh tip loading. The product comes with a war ribs to secure the first chain ...
See the other products
RUD

iwis Leaf chains (according to works standard) are produced from precision chain parts according to ISO 606. They can be customized and are compliant with the EC Machinery Directive 2006/42/EC. Highlights - iwis link plates with very ...
See the other products
iwis antriebssysteme GmbH & Co KG

iwis offers a wide range of roller chain products that fulfil the requirements of a variety of conveyor applications. We can supply virtually any special chain version even the most difficult and complex design for use in highly diverse ...
See the other products
iwis antriebssysteme GmbH & Co KG

iwis high performance chains roller chains with rust-resistant, easy to change attachments. Exclusively from iwis. Highlights Transport bars can be changed easily on site using the special iwis tool provided; no need to break the ...
See the other products
iwis antriebssysteme GmbH & Co KG

iwis side bow chains are generally used as conveyor or drag chains in applications that require curved tracks. The chains may have different bow radii. As a rule, the pin diameter of these chains is smaller, but conical pins or bi-conical ...
See the other products
iwis antriebssysteme GmbH & Co KG

The agricultural machinery range from iwis agrisystems includes not only feeder and elevator chains for a wide variety of applications, it also encompasses the associated attachments for all the various chain types. iwis agrisystems ...
See the other products
iwis antriebssysteme GmbH & Co KG

Eriez powerful Magnetic Pulleys are used to automatically separate heavy tramp iron and fine iron contaminants from conveyor transported materials. Permanent Magnetic Pulleys When material contaminated with tramp iron is presented to ...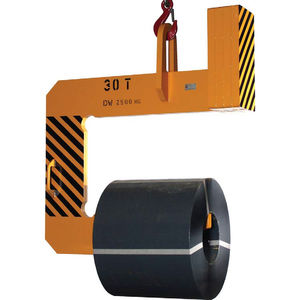 lifting hook
500 - 10 000 kg
Carrying capacity: 5 kN - 100 kN
The Coil Lifting C Hook features a rugged welded steel structure that is made of high-grade steel for intense conditions. Because of the counterweight balancing the hook maintains a 4° upward inclination which keeps the load protected ...
See the other products
Carl Stahl GmbH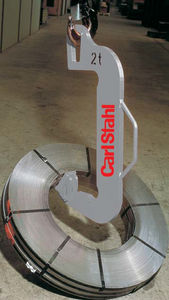 lifting hook
500 - 5 000 kg
Carrying capacity: 5 kN - 50 kN
The Carl Stahl load suspension equipment is designed for use in the tilting or erecting of steel coils or straps. This equipment is well banded and rests on scantlings. Its self weight is low because high-grade steel is used. Carl Stahl ...
See the other products
Carl Stahl GmbH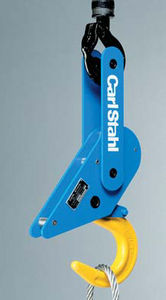 Carrying capacity: 16 kN - 200 kN
The Safety Hook is characterized by its durable design fabricated from high grade alloy steel. The loads can be picked up by the crane operator without helpers because it is easy to operate. It is highly reliable because it prevents ...
See the other products
Carl Stahl GmbH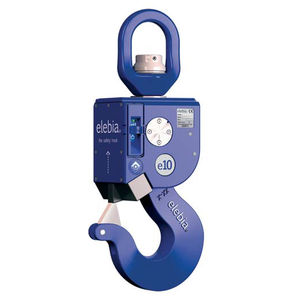 lifting hook
5 000 - 20 000 kg | elebia®
Carrying capacity: 50 kN - 200 kN
The Carl Stahl patented hook design creates a magnetic field. As the opened hook nears the load, the hook aligns itself in a 90° position to the lifting eye bringing it in the correct position. The operator then uses the digital remote ...
See the other products
Carl Stahl GmbH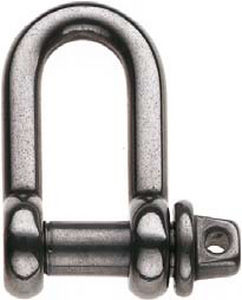 straight shackle
1 000 - 18 000 kg
The Stainless Steel Bow Shackle comes with a 6:0 safety factor from Carl Stahl. It is built with stainless steel AISI 630 material. The load capacity is 280 kg to 4500 kg.
See the other products
Carl Stahl GmbH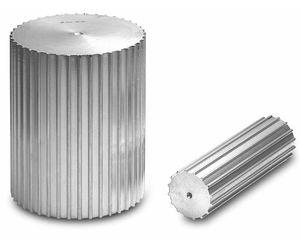 Megadyne Group's timing bars are made out of steel. They are structured in a rugged design. The bars can be supplied in standard or custom-made drawings.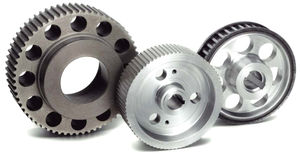 Megadyne offers a wide range of standard and customized pulleys, depending on application requirements, in both the automotive and industrial sectors. The company also offers complete drive system product lines.

NEW FOR 2015! ENGRENAGES HPC has added new ranges of tension and idler pulleys to its catalogue. When not being subject to sufficient tension, a belt whether V, round or flat, will have a tendency to slip. To overcome this, it ...

The ENGRENAGES HPC offers a comprehensive range of pulleys including Heavy duty timing pulleys (HTD), made out of aluminium, steel or cast iron, with pitch from 3 to 14 mm (based on the material used) and belt widths of 9, 15, 20, 25, ...

toothed pulley
Timing Pulley
Timing Pulley:Tooth Profile and Precise Coordination, Poly Chain, RPP and STS,OEM manufacturing,steel parts, castings, aluminum parts, copper parts, stainless steel and nylon parts Application Industry: HTD, STD, GT (circular arc tooth ...


flat cable
UL 2651 FlatCable
UL Style 2651 AWG 28 Pitch 1,27mm FBL LIYY coloured Construction: Conductor: TPC - tin plated copper acc. EN13602 Core insulation: UL-PVC 105°C Marking: label, without printing Jacket: UL-PVC 105°C Stranding: AWG28 ...

belt pulley
0.885114 M10x40/49x15/26,5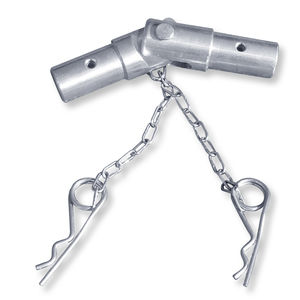 Coupler plug for connecting cable rollers Purchase-No. Z 812-01.10-00/0.

cable rack roller
Z-PRV 100, Z-PRV 101
Designed by Jakob Thaler, these cable rack rollers are available in two models. Made of galvanized material, the first model weighs 5.5 kg and has Purchase No. Z-PRV 100 or 080-1901-100. The second model weighs 6.0 kg and has Purchase ...

anti twist device
Z 803-xx.0x-00/0 series, 080-7113-010
Anti-twist device with shackle Diameter Permitted loading force Purchase No. 45 mm 4.000 kg Z 803-05.00-00/0 60 mm 7.000 kg Z 803-06.00-00/0 74 mm 10.000 kg Z 803-10.00-00/0 Anti-twist ...

straight shackle
005-3411-xxx, Z 803-xx.01-00/0 series
Shackle with slotted bolt Diameter Purchase No. 10 mm Z 803-05.00-00/0 Shackle with eyebolt Diameter Purchase No. 20 mm 080-7113-010 *other Diameters on request

Pulleys, rolls and wheels designed from thermoplastic material ensure a long lasting life and a greater lightness as compared to metals which is attributed to their particular plastic composition of mixed materials.They showcase consequent ...

screw shackle
FM/GS/UKAS NO.285A
Brush/NO.285 A Brand:X-Spark Material: Aluminum Bronze/Beryllium Copper Parameters: 1.Item:Aluminium Bronze/Beryllium Copper 2.Composition:Al:10~12% / Be:1.5~1.7% 1.8~2.3% Ni:4~6% / Co+Ni:over 0.2% ...


lifting hook
max. 2 000 kg
Carrying capacity: 0 N - 20 N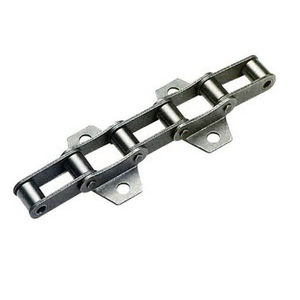 attachment chain
C/S Type Steel (1,2,3,4)
Agricultural chain types S Type and C Type Steel Agricultural Chain with Attachments, Tractor Chain & Ratovator Chain and Agricultural Roller Chain Attachments which are used for applicating in industries.
See the other products
Chinabase Machinery (Hangzhou)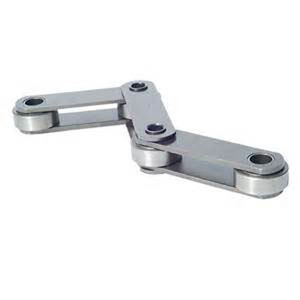 Item administration of Hollow Pin Conveyor chain (MC Series) spends significant time in generation of Transmission chain(driving Chain), Conveyor Chain, Engineering Chain, Stainless Steel Chain, Lifting Chain, Agricultural Chain, Forging ...
See the other products
Chinabase Machinery (Hangzhou)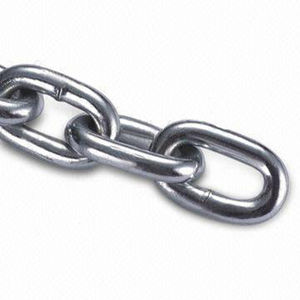 China Chain manufacturer & exporter specializes in manufacturing various types of chains. The lifting chain is also one of their products. It comes in various types like car parking chain, leaf chain, multiple plate bearing pin chain ...
See the other products
Chinabase Machinery (Hangzhou)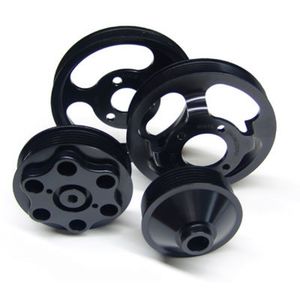 The conveyor belt pulleys are built with good quality in a cost-efficient price, manufactured by Chinabase. They manufacture V-Belt pulleys that are specifically designed for taper bushes. The company offers units in different versions, ...
See the other products
Chinabase Machinery (Hangzhou)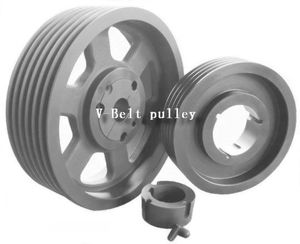 The European Series V-Belt Pulleys are manufactured by Chinabase Machinery, company that specializes in the production of V-Belt Pulleys including V-Belt Pulleys For Taper Bushes, V-Belt Pulleys With Solid Hub, Adjiustable Speed V-Belt ...
See the other products
Chinabase Machinery (Hangzhou)

The Pulley Modelle is ideally designed with a modern and sophisticated finish to enhance its features and performance. It is capable of changing the rotation speed continuously without the need to stop the unit. It is highly built to ...

steel cord elevator belt
STW series
Steel, abrasion resistant, antistatic, heat resistant Suitable for handling heavy duty industrial products such as: cement, aggregates, sand, coke, foundry sands, etc.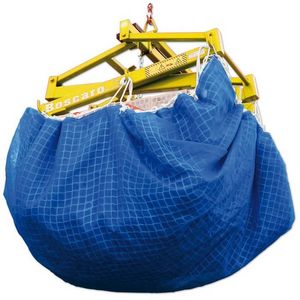 This device belongs to the RPF series. It is operated to lift loads using the net. The load is to be placed over the net without any degree of slant, at 10/15 cm away. Then the eyelets can be inserted into the proper hooks and the load ...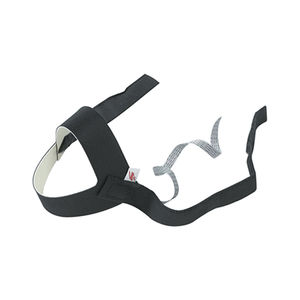 anti-static strap
055 ESD Heel Grounder
A device for connecting a walking or standing person to ground by using a conductive rubber thread to provide the necessary electrical contact between the person and the floor mat.