How to choose this product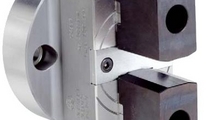 Two-jaw chucks are used to clamp and rotate irregularly shaped parts on lathes. The jaws usually are designed to completely encompass the part being turned.
Applications
These chucks can be used to hold workpieces for all lathe operations. They hold complex parts such as pipe joints, wooden objects and rectangular parts, and can clamp both internally and externally.
Technologies
The two-jaw chuck is either manual or power-actuated. It generally has "soft-jaws" which can be machined to conform to the object being turned.
How to choose
Choice will depend on the size of the part to be turned. Other factors to take into account are the clamping force, speed, weight and the form of the soft jaws.