How to choose this product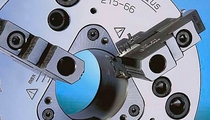 The three-jaw chuck is the most common type of lathe chuck for holding rotating workpieces. This self-centering chuck can be either manual or power actuated. It also can be used on rotary indexing tables.
Applications
These chucks can hold small, medium and large workpieces for all types of turning applications, as well as for grinding. They also can be mounted on rotary tables for dimensional measurements.
Technologies
The three-jaw chuck is almost always a self-centering chuck, holding the workpiece in radial symmetry. There are both through-hole and closed-center models.
How to choose
Be sure to determine the size range of the workpieces the chuck will hold. Its clamping force is another important consideration.
Advantages
- Self-centering