3D printers
How to choose this product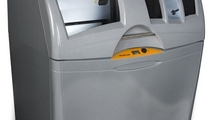 A 3D printer uses additive fabrication processes to quickly create product prototypes. Plastic, ceramic or metal objects can be created from CAD models.
Applications
These devices allow designers and engineers to produce mock-ups to confirm design viability. The object can be tested for proper fit with other components or undergo wind tunnel trials. It also can be used to create molds. The printer is used in dentistry to create ceramic crowns, bridges and dental models. Such printers also can produce many types of medical prostheses.
Technologies
Printers use raw materials in liquid, sold or powder form. Some processes are based on stereo-lithographic principles, such as photo-polymerization of UV-sensitive liquid polymers by flash or laser exposure. Other techniques include selective fritting of laser-fused powder (laser sintering), fused wire deposit using a heated extrusion nozzle or projection of droplets by a printing head.

Layers are applied one after the other. Undesirable staircasing may result from the pitch or thickness of the layers. Finish techniques include polishing and painting, if the printer is not a color model.
How to choose
Choice will depend on machine speed and precision, the raw materials, their curing requirements and the dimensions of the objects to be created.
Advantages
- Reduced conception-to-market time
14
companies |
107
industrial products
freeformer

ARBURG
Our unique freeformer produces fully functional plastic parts using the new additive manufacturing technique ARBURG Plastic Freeforming (AKF) from 3D CAD files, from standard granulates and without...
Paper
Matrix 300+

mcor technologies
Unmatched Affordability The material costs are a fraction of the cost of other technologies making it affordable for all environments. Accessibility The Matrix 300+ makes 3D printing truly accessible...
Filter by :
› New products

(7)

› Products with video

(37)
Refine the search
3D printers
Extend the search
Search by manufacturer
Search by catalog
Associated Terms
three-dimensional printers, three dimensional printers, industrial 3d printers