How to choose this product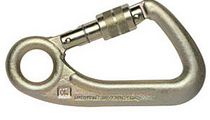 A carabiner is a loop, most often of steel or stainless steel, that is equipped with a lockable, easy-opening device.
Applications
This type of connector is found in many domains. Numerous models exist for a variety of uses.
Technologies
Carabiner technology varies with type, including swivel, locking, symmetrical, secure and semi-circular carabiners, as well as scaffold hooks. Each application requires a specific configuration.
How to choose
Choice will depend on specific use. For optimum safety, it is paramount to verify that the carabiner meets recognized norms.