How to choose this product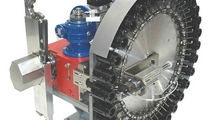 CNC (computer numerical control) tool changers are used on CNC machining centers to deliver multiple cutting tools the machine's spindle. The CNC tool changer holds multiple tool holders so that an operator does not have to manually change the cutting tool between machining operations.
Applications
CNC tool changers are used on vertical and horizontal milling machines, lathes and turning centers. They can hold all types of tool holders and cutting tools.
Technologies
These devices consist of two parts that work in unison to deliver to the machining center a different tool. The tool changer is either a cam-driven or gear-driven arm which grips and moves the tool holder from the machine's spindle.
Advantages
- Production time