How to choose this product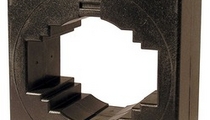 A current transformer is a type of instrument transformer which proportionally reduces high currents to values that can be applied to standard measuring and recording instruments.
Applications
These devices are primarily used to measure high alternating current, such as that in high-tension lines.
Technologies
The high current in the primary coil is reduced to a much lower value in the secondary coil. The relationship between these values enables calculation of the primary value (in the kA range) from those obtained from an ordinary ammeter connected to the secondary circuit.
How to choose
Since choice of transformer depends on the relationship between the currents in the two circuits, the approximate value of the primary current must be known.
Advantages
- Ease of measurement